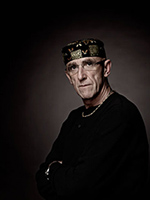 Frank Nagy is a celebrated commercial photographer noted for the unique and original style, approach and feeling he brings to all professional projects and challenges.
Frank's voluptuous colours, focus and framing, together with his thoughtful sense of line and angle, take his images to a new level of experience.
Through his work with musicians for example, Frank has developed a signature style of performance shooting which portrays and redefines visually, the symbiotic relationship between the players and their instruments as an intregal dynamic of the musical process.
Frank has the eye, the artistic technique and the creative expertise to deliver exceptional photography with maximum impact to meet the various imagery needs of every client.
McMaster University
University of Western Ontario
Ryerson University
Member of Gallery 44, Visual Arts Ontario, CARFAC, CanPhoto
Associate of Sterling Studio